If Unique Porcelain is what you seek!
And Variety is the spice of your life,
this is the doorway to your shopping enjoyment.
Beautiful hand made, hand painted porcelain beads, pendants and jewelry
Unusual finishes and innovative design ideas.
Unique porcelain components.
Highest quality lightweight porcelain beads and pendants.
Durable fired on finishes
The photo on the right is an example of some of the exquisite hand painted pieces that you can find in my bead shop. This piece features a design inspired by a design from antique porcelain dishes made by the Pickard China Company.
Please visit
Amazing Porcelain
to view this and other bead sets, focal beads, pendants, as well as jewelry utilizing these components.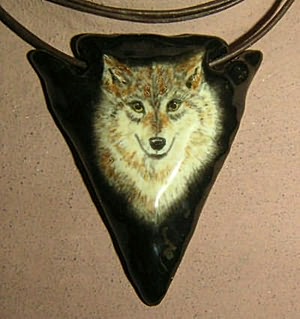 A registered Native American Choctaw artist
Contemporary and Traditional Pottery designs utilizing hand dug Native Clay, stoneware, and porcelain.
Utilizing Traditional Designs from the Mississippian and Woodland period Mound Builders
Contemporary Native American jewelry designs in porcelain, stoneware and hand dug Native Clay
Unique durable lightweight porcelain jewelry with Native American designs
Incorporating ancient mound builder designs into contemporary jewelry
A strong interest and fondness for the ancient Mississippian period effigy pots results in a variety of direct reproductions of ancient pots as well as original effigy pots made in the same style.
A love of porcelain has led to some very unique and unusual porcelain pottery incorporating many of the ancient moundbuilder designs.
A strong desire to make authentic American Indian jewelry in a new medium has developed into a line of porcelain jewelry that utilizes many Native American icons such as the arrowhead and feathers. Also jewelry incorporating ancient designs and styles with stoneware and Native Clay components.
As a decendent of the ancient mound builders she also utilizes their designs in the creation of new and exciting pieces of pottery and jewelry art that honor the ancient artifacts. To see more of the authentic Native American artwork visit
Natikas Native American Art
Porcelain miniatures created by IGMA Fellow Marsha Hedrick
A variety of unique shapes and designs.
Unequaled attention to detail in reproducing exquisite antiques such as her R.S. Prussia tea set (shown to the right).
Paper thin porcelains exhibiting a range of designs from exquisite delicately handpainted floral designs to bold geometric Art Deco designs.
Original sculpture antique reproductions featuring delicate handles and clean lines not seen in other miniatures.
To see the full range of Marsha's miniature creations visit
Porcelain Fantasies
A successful porcelain artist for over 15 years.
Multi Award Winning Native American Artist
Awarded Fellow recognition by the International Guild of Miniature Artisans, their highest honor, in 2002.
A variety of methods and designs keeps it fresh and interesting.
With so many different directions and interests this page will serve as a doorway to each of these varied pursuits and and a common place to inform you of what is new.
Below are some exerpts from Marsha's
Porcelain Art Blog
.